Blues
Rock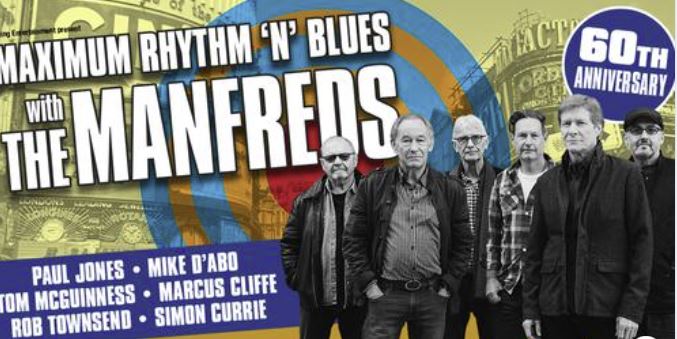 Key members of the 1960's Manfred Mann line-up re-formed as The Manfreds in 1991 following what turned out to be a very successful and enjoyable reunion for Tom McGuinness' 50th birthday celebration.

Original Manfred Mann members Paul Jones, Mike Hugg and Tom McGuinness , and former member Mike d'Abo, are joined by Rob Townsend, formerly of Family, on drums, Marcus Cliffe on bass and Simon Currie on saxophone & flute, as the exciting new line-up of The Manfreds.

Nowadays, Mike d'Abo, with his blessing, does not appear on all The Manfreds tours. This line up featuring Paul Jones, Tom McGuinness, Mike Hugg, plus Rob Townsend, Marcus Cliffe & Simon Currie, are becoming well known for their show of 'Hits, Jazz & Blues'. A wonderful mix of Manfred Mann hits along with some solo material from all involved and a few surprises along the way too!

The highly acclaimed 'Maximum Rhythm 'n' Blues' Tour, which generally takes place in the latter part of every other year, sees the return of Mike d'Abo sharing the lead with Paul Jones. This year, in celebration of 60 years of Manfred Mann, they will showcase their vast catalogue of Manfred Mann hits and well known solo material in a two hour plus concert on their own. This will be the last opportunity to see BOTH Manfred Mann lead singers on a comprehensive tour together. A concert definitely not to be missed!
What's On
No events were found.