Blues
Rock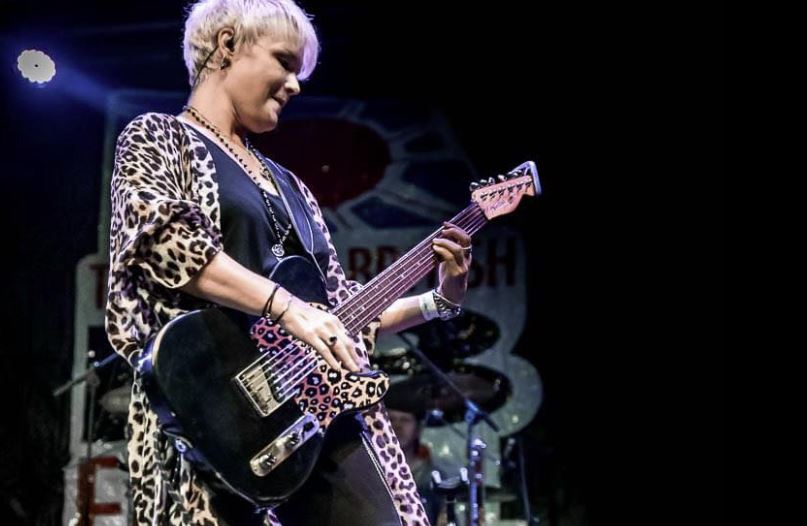 Birmingham (UK)-based Rebecca is a fully independent artist creating original blues/rock music with her co-songwriter Steve Birkett and releasing it on her own label Mad Hat Records, part of her own company that manages all aspects of the production chain from creation through manufacture to marketing, promotion and sales. Worldwide physical and digital distribution is undertaken by Cargo Records.

She usually plays live within a 5-piece band, performing tracks mainly from her superb second album Believe and the stunning third album More Sinner Than Saint, along with new material and one or two classic covers. Rebecca was voted Female Vocalist and Emerging Artist of the Year at the British Blues Awards 2016 and Female Blues Vocalist of the Year in the FORM UK Blues Awards 2018. In July 2020 Rebecca was appointed Brand Ambassador for the Forge Ahead Initiative supporting the development of young bands.

She was born and raised in Wolverhampton in the West Midlands of the United Kingdom. She grew up listening to a variety of different music with early influence from artists that her parents listened to such as Ella Fitzgerald and Etta James. She first started performing live music when aged 13 and as a teenager wrote and performed her own material. Some original recordings still exist – a little rough round the edges at times, but the passion and energy comes through, along with the power of her voice. In her teenage years she was very much into rock but over the years she has listened to, performed and enjoyed a very wide range of music.

Whilst her career path took her to Staffordshire University to study Fine Art and Art History and then into full-time work, she continued to perform. She was always keen to return to writing and recording, but needed encouragement to pick up the notebook and guitar once again.

This she duly got from several sources and in particular from Mark Viner Stuart of Mat Hat Studios in Coven, near Wolverhampton, whose judgement that she had exceptional talent was based on the hundreds of performers with whom he had worked. In 2011 she linked up with Steve Birkett, a long-time performer and writer of his own material, who had retired from full-time employment and had both the talent and time to create more original music. It was a partnership that 'clicked', to the intense excitement of those around the pair. Their core genre was the Blues, but right from the start they stretched their music in several different directions. Their EP Real Life was crafted in 2012 and released in early 2013 and both the recording and live performances of the tracks received an enthusiastic reception. 2012 was also the year that Rebecca left her full-time job for part-time work as a vocal tutor so that she had more time to work with Steve. With more input from Mark and a galaxy of musicians, mostly from the area around Rebecca's new Birmingham base, the album Back to the Start was recorded, hitting the shelves in 2013, once again to acclaim from critics and fans alike.

The next 18 months was a period of changing personalities as Rebecca and Steve worked to find the right 'fit' with others both within and around the band and to establish relationships with leading lights in the music scene. The hard work paid off, though, and 2015 was a breakthrough year. Rick Benton joined the band on keys, bringing his own interpretation to the set and adding new dimensions to tracks like Back to the Start. Lloyd Daker had established himself on drums bringing an infectious, youthful energy along with a permanently sunny disposition. Dan Clark, a long-time musical colleague, made the bass role his own with his funky and 'in-the-pocket' delivery. With a settled core to the band, and significant support from outside of it, they started to get noticed and grow their following. The year started at the Skegness Rock and Blues Festival with a performance on the Introducing Stage, voted by the audience as the best of the day, leading to an appointment on the main stage at the 2016 festival. Interest in the band and its work grew via notable performances at Blues clubs and festivals, culminating in the ten-gig support slot with the excellent King King that exposed the band to new audiences across the UK.