Blues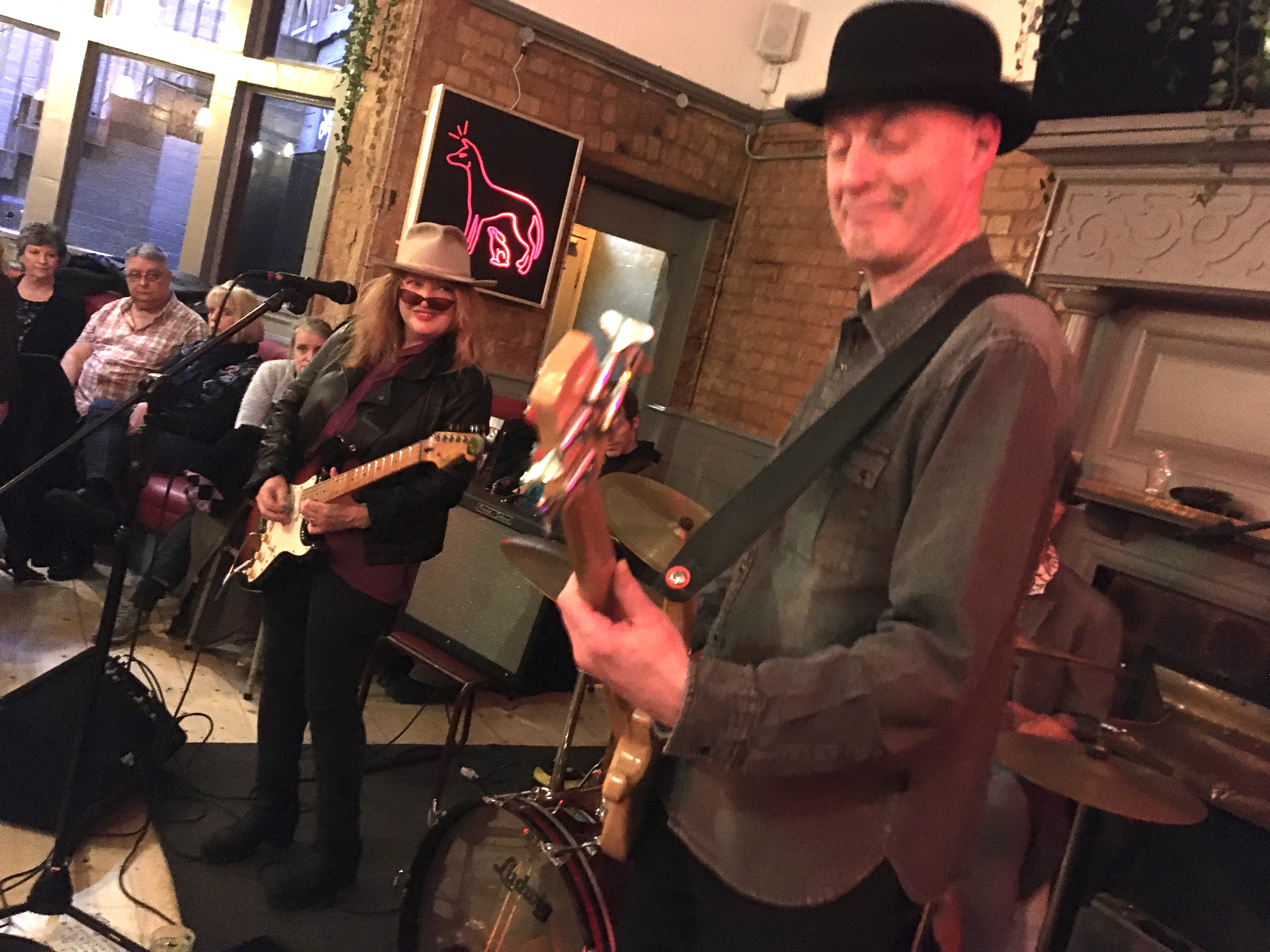 Beki Brindle - Guitars (lead and rhythm) and Vocals (lead and harmonies)

New York Blues Hall of Fame 2014 Inductee, Beki Brindle was discovered at Indiana University by Rick Danko and Richard Manuel of "The Band," while she was Blues Legend James "Yank" Rachell's lead guitarist. A consummate player at an early age, Beki toured repeatedly with Jerry Lee Lewis, as his guitarist. A native of Indiana, she spent time living in Ireland where she shared the stage with Hot House Flowers, The Waterboys, members of U2 and Thin Lizzy, The Pogues and Francie Conway, as well as recording & touring with blues artists such as Carey Bell, Johnny Mars, Joe Louis Walker, Mary Stokes Band, Tampa Red, Fenton Robinson and more. She was also commissioned by Bono of U2 to create and run a blues workshop on Irish National Television.

Although Beki is a renowned blues guitarist and singer, with a style that is a mix of classic and original blues, peppered with sounds from Chicago and The Delta, she was also the guitarist for the Warner/Reprise band Grace Pool, as well as releasing several albums featuring other guitar stylings.

In 2016, Beki's latest blues album, "All Kinds of Beki," released on NY Blues & Jazz label Random Chance Records, was much-lauded, including a stellar review from Living Blues Magazine (by Robert Cattaliotti). In November, Beki and her band recorded a "Live in The Studio" album in Staffordshire, UK, featuring original, classic and obscure songs by artists such as Willie Dixon, Ike Turner, The Band, Lightnin' Hopkins and Yank Rachell. The new album, "Back To The Juke Joint," promises both classic blues and originals, jam-packed with unforgettable, exuberant and raw performances.

Beki Brindle Band members:


Sticky Wicket - Drums/Percussion
After beginning his career playing with rock bands in his hometown of Birmingham, UK, Sticky switched gears and began playing with jazzmen. His big break came when he became a member of The Russ Ballard Band, which toured the world and had the distinction of appearing on the legendary BBC TV live music show, "The Old Grey Whistle Test." Returning to his roots, he became a longtime member of the successful rock band The Steve Gibbons Band. He played with the legendary Steve Marriott (Humble Pie & Small Faces), the venerable British jazzman Chris Barber, and the acclaimed Lonnie Donegan Band. Sticky is a much-respected teacher of drums and percussion and also runs one of the UK's most celebrated swing bands.

Sticky has played with Mark Knopfler, Joe Cocker, Roger Daltry, Van Morrison, Bryan Ferry, Jools Holland, Peter Frampton, Leo Sayer, Chas & Dave, Marsha Hunt, Steve Marriott , Paul & Barry Ryan, Bruce Welsh, Chris Farlow, Chris Barber, Steve Gibbons, Paul Jones and many more. Sticks is currently a member of The Beki Brindle Band.

What's On
No events were found.